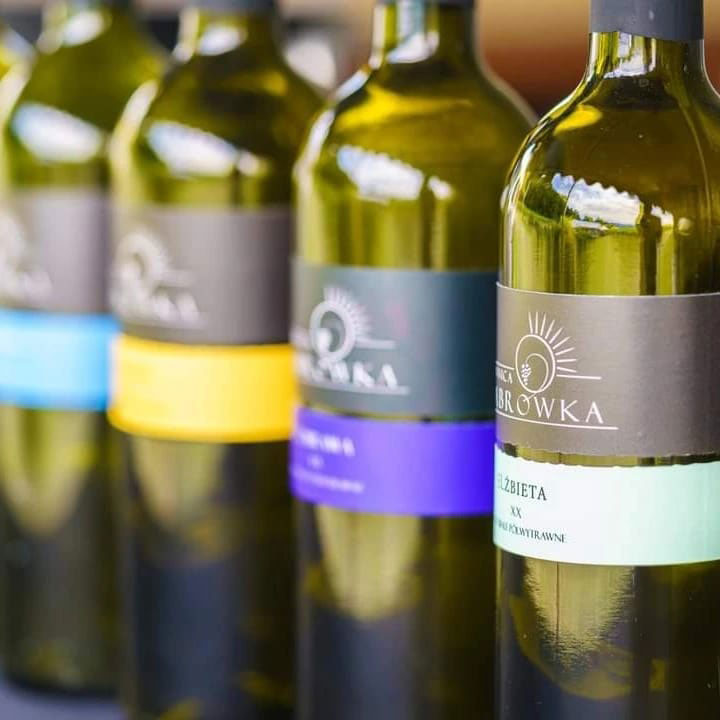 It's worth fulfilling dreams, especially together with loved ones. Our winemaking journey began in 2010.
Dąbrówka Winery is still a family endeavor, with all key actions and decisions belonging to us – the owners. We derive great pleasure and joy from pursuing new challenges and ideas. Active participation in training courses, meetings with experts, involvement in winemaking associations, visits to international vineyards, and our first awards have resulted in the gradual expansion of our vineyard area and the growth of our enological knowledge, awareness of potential, and determination. Grapevines, vineyard, and ultimately wine have become our priority, stemming from our life-long passion and genuine love for wine. We constantly strive for the further development of our vineyard and knowledge to meet the expectations of wine enthusiasts.
Competitions and awards, but above all, the satisfaction of our customers.

Dry white wine made from Muscat Ottonel grapes
A wine with a bright, delicate color. It has a distinct, airy, and floral bouquet with dominant notes of mirabelle plum and honey. The taste is delicate, light, and refreshing.
PAIRING (white meats, seafood, sushi, pasta)
JADWIGA – fresh, unexpected, delicate.

Dry white wine made from Pinot Blanc grapes.
A fresh wine with a light color. It has a slightly spicy taste with pronounced aromas of lemon and a pleasant acidic note.
PAIRING (fish, appetizers, white meats, Asian dishes with curry)
BONA – exquisite, dignified, expressive.

Semi-dry white wine made from Solaris and Muscat Ottonel grapes.
A light, joyful, and easy-going wine. It has a clear, straw color and a pleasant fruity aroma dominated by apricot and mango.
PAIRING (picnics, fish, salads, fruity desserts)
DOBRAWA – sweet, gentle, summery.

Dry white wine made from Hibernal grapes.
A wine full of floral and fruity aromas, with a distinct apple and grapefruit character. It strikes a balanced blend between the pleasant sweetness of the fruit and refreshing acidity. It is full-bodied, surprising, with a long finish.
PAIRING (appetizers, salads, seafood) KATARZYNA – surprising, fresh, relaxing.

Semi-dry white wine made from Johanitter grapes.
An expressive and refreshing wine with a light color and green reflections. It charms with its aromatic character, dominated by gooseberry and apple, complemented by peachy sweetness.
PAIRING (seafood, fish, grilled white meat, salads, risotto)
JOHANNES – refreshing, invigorating, unique.

Semi-dry white wine made from Solaris and Pinot Blanc grapes.
A wine full of aromas and flavors, essence-like, with a distinctive touch of peach accompanied by delicate citrus freshness. It has a straw-yellow color and a pronounced fruity sweetness on the palate.
PAIRING (desserts, white meats, grilled vegetables)
ELŻBIETA – joyful, warm, sociable.

Semi-sweet white wine made from Solaris grapes.
A highly aromatic wine that evokes the sun. It reveals distinctive peach aromas with warm floral and herbal notes. Its long aftertaste lingers on the palate. A wine created for sweet desserts.
PAIRING (desserts, aperitif)
ANNA – blissful, summery, sunny.
Semi-sweet rosé wine made from Monarch grapes.
A subtle and light wine, reminiscent of summer. It has a pleasant salmon color, with a delicate aroma of red fruits. On the palate, notes of wild berries and blackberries are perceived, enveloped in sweetness and delicate acidity.
PAIRING (desserts, tarts, Thai and Asian cuisine)
ROSE – terrace-friendly, strawberry-like, carefree.

Dry red wine made from Rondo, Regent, and Monarch grapes.
Bolesław is a full-bodied, essence-like wine with a deep ruby color. It has a slightly spicy and delicately tannic character, rounded by cherry, blackberry, and oak barrel undertones. The wine captivates with its spicy and cedar aromas, licorice, and dried plum.
PAIRING (red meats, game)
BOLESŁAW – balanced, harmonious, aromatic.
Dry red wine made from Regent grapes.
A wine with a delicate brick-red color. It enchants with aromas of cherries and blackcurrants, leaving a long aftertaste. Delicate acidity and smooth tannins complete the experience. Enjoyable with a strong fruity accent.
PAIRING (cheese platters, steak, dishes with tomato sauce)
MIESZKO – elegant, velvety, harmonious.

Dry red wine made from Rondo grapes.
It reveals a juicy flavor of cherries and wild berries with a background note of forest floor. It is well-structured, bold, and elegant. The long finish and pronounced tannins leave a pleasant impression.
PAIRING (steak, red meats, sauces, mushrooms)
KAZIMIERZ – balsamic, structured, rich.

Dry sparkling white wine made from Johanniter grapes.
A natural wine produced using ancient methods. Minimal intervention from the winemaker. On the palate, you will experience the freshness of citrus fruits and pleasant effervescence.
PET-NAT – energetic, spontaneous, occasional.
Our wines can be ordered for courier delivery via email at robertbesciak@wp.pl. The minimum order quantity is 6 bottles. Upon delivery, the courier verifies the recipient's age based on an identification document in accordance with the "Act of 26 October 1982 on upbringing in sobriety and countering alcoholism." The courier shipping service ensures fast and reliable transport of the ordered wines.
We also invite you to visit the Wine Cellar of Dąbrówka Vineyard, where you can purchase our wines in person at the address 33-113 Błonie 124. To facilitate your journey, please enter "Winnica Dąbrówka" into your navigation system. The store is open:
– Monday to Friday from
   6:00 to 20:00
-Saturdays from
  09:00 to 13:00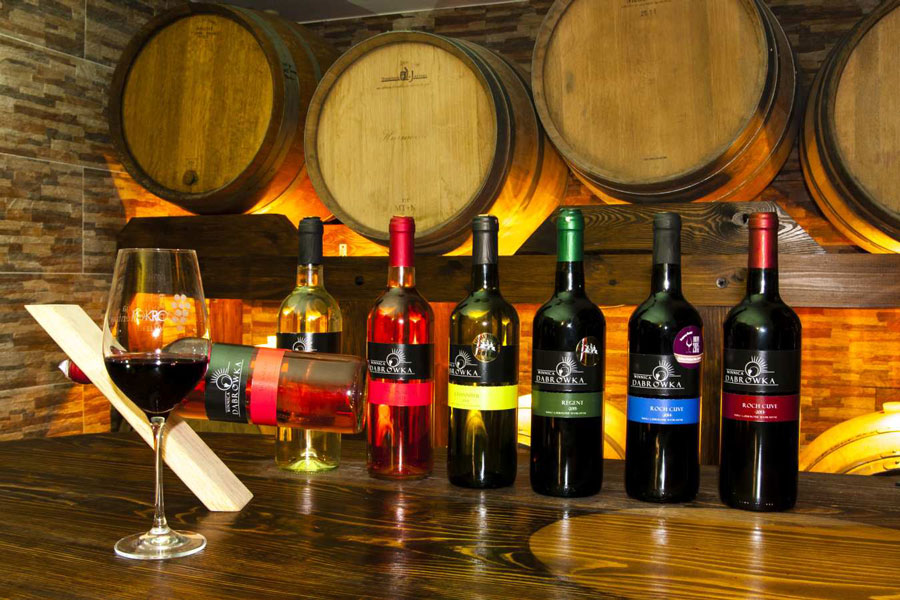 Let's stay in touch
We create wine with our customers in mind.


Copyright © 2023 Winnica Dąbrówka